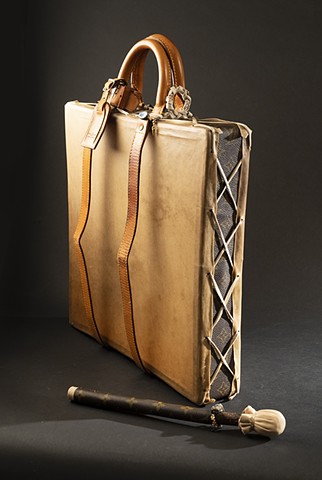 Karuk Louis Vuitton Drum 1.1
Mixed Media: Cedar frame, elk rawhide, used Louis Vuitton Bandolière 50 bag parts, alder stick, brain-tanned deer hide, abalone beads, bronze beads and findings, artificial sinew, and copper wire.
2020
This drum, inspired by traditional Karuk double-sided gambling drums, incorporates monogram canvas and leather handles sourced from a used Louis Vuitton Keepall Bandoulière 50 bag.
While conceptualizing the drum, I considered reports by 19th and 20th century non-Native ethnographers that referred to an emphasis in Karuk culture on the accumulation of goods like dentalium shells, woodpecker scalps, and obsidian blades, as wealth-building. These items were collected as a signal of high social position, where the wealthiest were afforded the most respect. Some English-speaking Karuk would refer to the wealthy as the "good people."
My choice to incorporate a luxury designer object into the making of this piece references these past traditions while helping to bring an imagined post-colonial future into reality. I purposely embarked on a modern day "hunt" to capture a Louis Vuitton bag on Ebay, and then processed it into materials for my art-making. I sought out a pre-owned bag that would have lived its own unknowable life before it came into my hands, and I thanked it for its service before making my first cut.
In many ways, this drum is a symbol of the juxtaposition between pre-contact Native cultural traditions and modern Euro-American displays of wealth and status. It embodies my Karuk ancestry along with my privileges as an urban upper middle class U.S. citizen. This drum mirrors my own existence. Together, we acknowledge that, while we may be here because of a complex and often violent history, it is more important to celebrate the fact that we are living, powerful examples of Indigenous resilience.
For purchase inquiries about this drum, please contact Stonington Gallery:
206.405.4040
art@stoningtongallery.com